History Pub: McMenamins Old St. Francis in Bend
"Camp Abbot: Training for War on the High Desert." Presented by Tor Hanson.
Today Sunriver is an idyllic community in Central Oregon, but during World War II, it was the site of Camp Abbot, the western-most engineer replacement training center of the U.S. Army Corps of Engineers. Under the leadership of Col. Frank Besson, the U.S. Army trained 90,000 men at the camp, from 1943 through 1944. There, amongst pine trees and sagebrush, soldiers endured sub-freezing winters and hundred-degree summers.
Local historian Tor Hanson has lived in Bend, Oregon for more than 25 years. He is a board member of the Deschutes County Historical Society and editor of its monthly newsletter, The Homesteader.
To see if reservations are available visit at www.deschuteshistory.org.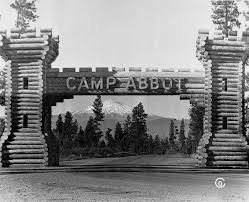 Date/Time
May 29, 2018 at 7 p.m.
Location
McMenamins Old St. Francis School
700 N.W. Bond Street
Bend, OR