An Authoritative and Free Resource on All Things Oregon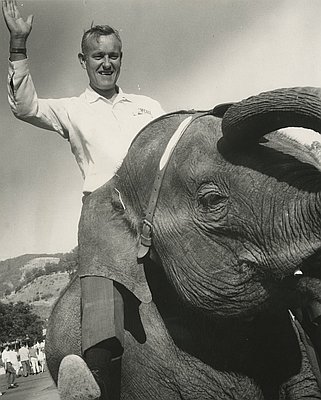 "A Symbol of Home": The Environmental and Political Legacy of Tom McCall in Oregon. A digital exhibit.
Famous for his forceful language and political skill, Governor Tom McCall has remained the name and face of Oregon's remarkable legacy of environmental lawmaking. His environmental efforts were not the earliest in the state, nor were his achievements his alone; but he provided people with a compelling and ambitious narrative that emphasized citizen responsibility to protect the land and its resources. The Oregon Historical Society preserves thousands of documents, images, and sound recordings connected to McCall, many of which are now available in the exhibit; and the Oregon Encyclopedia worked with historians and experts to publish new scholarship on the governor, providing insights into the people and events that shaped his legacy.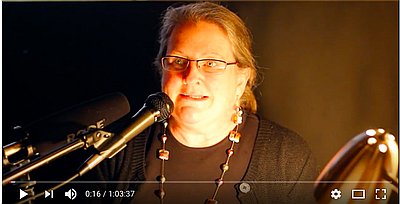 Oregon History 101: "Social Movements, Citizenship, and Civil Liberties," presented by Dr. Kimberly Jensen
One hundred years ago women in Oregon faced many challenges and debated questions that resonate in our own day. Oregon women shaped powerful reform movements and forged new civic roles including the achievement of the vote, office holding, and influencing public health, labor, and education reforms. Yet Oregon women were also divided in their visions of female citizenship and how to make a better society. Some women campaigned for the prohibition of alcohol and eugenic sterilization as their expression of a better community. Many women of color, wage-earning, and Socialist women challenged privileged structures of whiteness and the capitalist state. Women debated the nature of sexuality and gender roles even as local and state officials sought to define and constrain them. In this presentation, Dr. Kimberly Jensen will show how Oregon women's activism during this period is a vital part of our state's history and the history of the Progressive Era in the nation.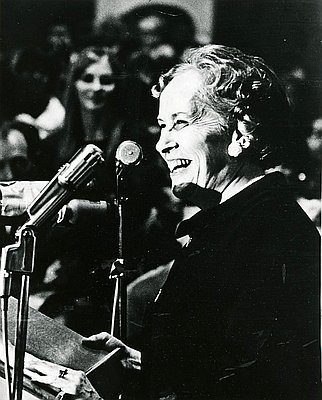 This Month in Oregon History: Women's History in Oregon, Politics
Free Speech, Free Press, Free People. The New Northwest is not a WOMAN'S RIGHTS but a HUMAN RIGHTS organ, devoted to whatever policy may be necessary to secure the greatest good to the greatest number. It knows no sex, no politics, no religion, no party, no color, no creed. Its foundation is, Universal Emancipation, Eternal Liberty, Untrammeled Progression. ---Masthead on the New Northwest weekly newspaper, April 12, 1872, published in Portland, Oregon, by Abigail Scott Duniway.
---
Upcoming Events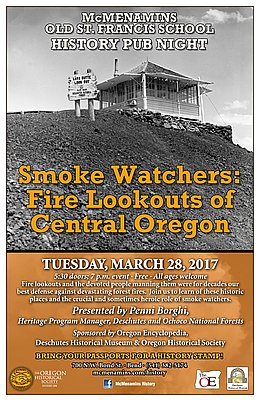 The OE History Pub in Bend
March 28, 2017, 7 p.m. "Smoke Watchers: Fire Lookouts of Central Oregon." Presented by Penni Borghi.
at McMenamins Old St. Francis School, 700 NW Bond Street, Bend
"Smoke Watchers: Fire Lookouts of Central Oregon." Presented by Penni Borghi, Heritage Program Manager, Deschutes and Ochoco National Forests. Fire lookouts and the devoted people ...
More Details...
---
---
Welcome to the award-winning Oregon Encyclopedia
Western History Association, Gene Autry Public History Award, 2012.
AASLH American Association of State and Local History, Leadership in History Award, 2011.
NCTE logo National Council of Teachers of English, Multicultural Program Award, 2009.
---
OHS Digital History Projects
In addition to The Oregon Encyclopedia, OHS Digital History Projects include the Oregon History Project and the Oregon TimeWeb.
---
The OE is Green!
The Encyclopedia's editorial process is completely paperless— our authors and editors use a one-of-a-kind online workshop developed by Portland State University. We've published hundreds of authoritative entries on Oregon history and culture without hurting a single Douglas-fir. Donate your green to The OE and keep us—and the trees— growing.
---
Additional Funding
This project has been funded in part by the Oregon Heritage Commission and the Oregon Cultural Trust.
---
---
LSTA Libraries as Community Resources Meetings, made possible by a grant from the Institute of Museum and Library Services to The Oregon Encyclopedia.