An Authoritative and Free Resource on All Things Oregon
Research Categories
---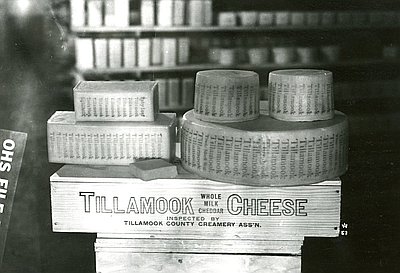 Become a member of the Oregon Historical Society, GET THE QUARTERLY, have some cheese
As far as encyclopedias go, The Oregon Encyclopedia may be the greatest encyclopedia of all time. It has all the best entries, the best authors, and the best photographs—thousands of them. The OE is part of one of the greatest research libraries in the West, which is located in the largest historical society in the state—the Oregon Historical Society. All sorts of cool history things are here, including a pardon signed by President Harrison for an Oregon bootlegger, a photo of Santa Ana's cork leg, the film "The Haunted Camera" directed by a 15-year-old Medford girl in the 1930s, and an animatronic elf (or three) from SantaLand. Millions of awesome history items are catalogued, carefully stored, and kept safe at OHS. Come visit! Even better, with an annual membership to the Oregon Historical Society, you'll help keep all that history stuff in good order; you'll get a subscription to the fun-to-read Oregon Historical Quarterly; and you'll be invited to special events, cheese included. You'll also have access to many other historical and cultural institutions around the state. Excellent!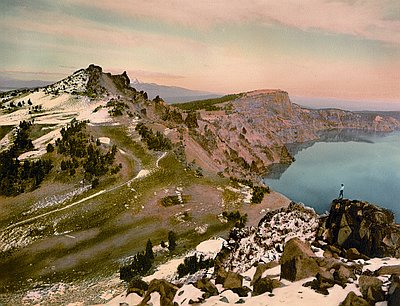 TAXES
Things we bought together, things we own together. "I will begin today with a commitment to invest in and enhance Oregon's human assets and Oregon's natural assets. And as I work for a better Oregon, I don't want you cheering me on from the sidelines. Oregon's future is not a spectator sport. We're all in this together. This is our time." --Gov. Barbara Roberts, Inaugural Address, January 14, 1991.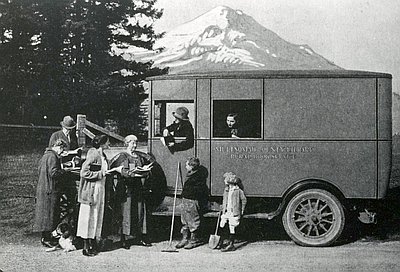 This Month in Oregon History: "the vein of gold in the quartz of [...] more rugged virtues"
2018: A year-long tribute to authors in The OE. The history of Oregon's people, places, events, and biota is remembered and made accessible to all by the dedicated people who contribute to this project and to hundreds of other public history projects and organizations across the Northwest. The OE is an amazing compendium of scholars, writers, and experts working throughout the region who generously share their research and knowledge about the history and culture of Oregon. We are endlessly grateful.
---
Upcoming Events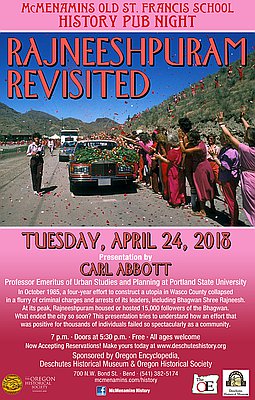 History Pub: McMenamins Old St. Francis in Bend
"Rajneeshpuram Revisited," presented by Carl Abbott, Professor Emeritus of Urban Studies and Planning, Portland State University.
April 24, 2018 at 7 p.m.
Location
McMenamins Old St. Francis School
700 N.W. Bond Street
Bend, OR
---
Welcome to the award-winning Oregon Encyclopedia
Western History Association, Gene Autry Public History Award, 2012.
AASLH American Association of State and Local History, Leadership in History Award, 2011.
NCTE logo National Council of Teachers of English, Multicultural Program Award, 2009.
OHS Digital History Projects
In addition to The Oregon Encyclopedia, the OHS Digital History Projects include the Oregon History Project and Oregon History Wayfinder.
The OE is Green!
The Encyclopedia's editorial process is completely paperless. Our authors and editors use a one-of-a-kind online workshop developed by Portland State University. We've published hundreds of authoritative entries on Oregon history and culture without hurting a single Douglas Fir. Donate your green to The OE and keep us—and the trees—growing.
Additional Funding
Project Partners
LSTA Libraries as Community Resources Meetings, made possible by a grant from the Institute of Museum and Library Services to The Oregon Encyclopedia.