An Authoritative and Free Resource on All Things Oregon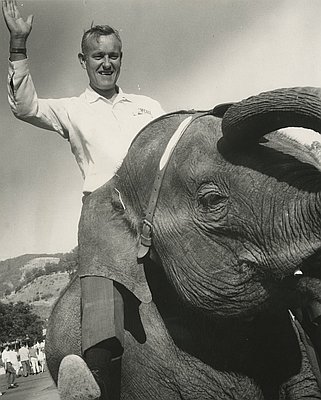 "A Symbol of Home": The Environmental and Political Legacy of Tom McCall in Oregon. A digital exhibit.
Famous for his forceful language and political skill, Governor Tom McCall has remained the name and face of Oregon's remarkable legacy of environmental lawmaking. His environmental efforts were not the earliest in the state, nor were his achievements his alone; but he provided people with a compelling and ambitious narrative that emphasized citizen responsibility to protect the land and its resources. The Oregon Historical Society preserves thousands of documents, images, and sound recordings connected to McCall, many of which are now available in the exhibit; and the Oregon Encyclopedia worked with historians and experts to publish new scholarship on the governor, providing insights into the people and events that shaped his legacy.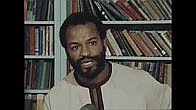 KOIN news footage related to the black community in Portland, March 1970 - July 1972
The Oregon Historical Society holds in its KOIN radio and television collection digitized news coverage of civil rights events, efforts, and debates in Portland during the 1960s and 1970s. Many of these videos are available on the OHS YouTube Channel. This news pull (MI #07523) includes coverage of a civil rights rally in Albina and hearings in City Hall about integration, police/community relations, and government discrimination. Note: the audio was edited by KOIN for broadcast and so comes and goes throughout the tape.
This Month in Oregon History: Black History in Oregon
"Periodically, newspaper or magazine articles appear proclaiming amazement at how white the population of Oregon and the City of Portland is compared to other parts of the country. It is not possible to argue with the figures—in 2013, there were an estimated 78,600 blacks in Oregon, about 2 percent of the population—but it is a profound mistake to think that these stories and statistics tell the story of the state's racial past. In fact, issues of race and the status and circumstances of black life in Oregon are central to understanding the history of the state, and perhaps its future as well." --Darrell Millner
---
Upcoming Events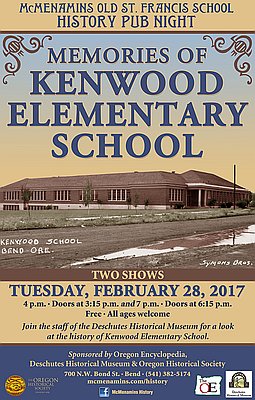 The OE History Pub in Bend
Feb. 28, 2017, 7 p.m. "Memories of Kenwood Elementary School." This History Pub will offer two shows. 4:00 p.m. and 7:00 p.m.
at McMenamins Old St. Francis School, 700 NW Bond Street, Bend
"Memories of Kenwood Elementary School." Join the staff of the Deschutes Historical Museum and members of the Deschutes Pioneers Association for a look at Kenwood ...
More Details...
---
---
Welcome to the award-winning Oregon Encyclopedia
Western History Association, Gene Autry Public History Award, 2012.
AASLH American Association of State and Local History, Leadership in History Award, 2011.
NCTE logo National Council of Teachers of English, Multicultural Program Award, 2009.
---
OHS Digital History Projects
In addition to The Oregon Encyclopedia, OHS Digital History Projects include the Oregon History Project and the Oregon TimeWeb.
---
The OE is Green!
The Encyclopedia's editorial process is completely paperless— our authors and editors use a one-of-a-kind online workshop developed by Portland State University. We've published hundreds of authoritative entries on Oregon history and culture without hurting a single Douglas-fir. Donate your green to The OE and keep us—and the trees— growing.
---
Additional Funding
This project has been funded in part by the Oregon Heritage Commission and the Oregon Cultural Trust.
---
---
LSTA Libraries as Community Resources Meetings, made possible by a grant from the Institute of Museum and Library Services to The Oregon Encyclopedia.