An Authoritative and Free Resource on All Things Oregon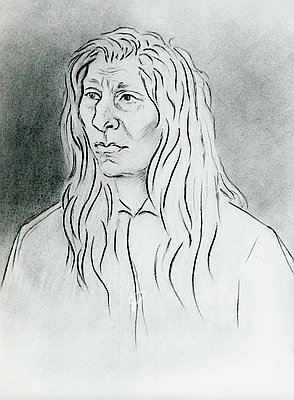 The Confederated Tribes of Grand Ronde, digital exhibit
The people of the Confederated Tribes of Grand Ronde represent almost thirty different tribes and bands that the U.S. government removed to the Grand Ronde Reservation in the nineteenth century. The history of the reservation—and how so many western Oregon Native people came to reside there—is long and complex. With support from the Spirit Mountain Community Fund, the Oregon Historical Society is working with scholars in an ongoing effort to create Oregon Encyclopedia entries on the people, places, and events connected to the history of the Grand Ronde people.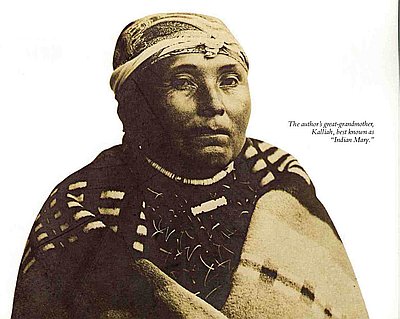 Kalliah Tumulth (Indian Mary), by Chuck Williams
Chuck Williams was a Cascade Chinook photographer and writer from the western Columbia River Gorge. He was the former publications editor and public-information manager for the Columbia River Inter-Tribal Fish Commission in Portland and co-founded and managed for its first year Salmon Corps, an Americorps program for Indian youth. He was the former national parks expert for Friends of the Earth, working directly for David Brower, and started the campaign for a Columbia Gorge National Scenic Area. His books included Bridge of the Gods, Mountains of Fire: A Return to the Columbia Gorge, two books on Mount St. Helens, and a chapter in the UW Press anthology Chinookan People of the Lower Columbia. His writings have been featured in many periodicals, including Audubon and High Country News, and his photography has been shown in numerous museums and galleries. He passed away in April 2016.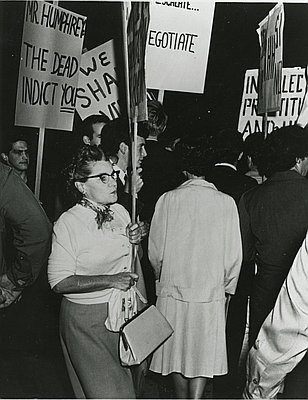 This Month in Oregon History: We Protest!
What do Oregonians protest? War, nuclear power plants, substandard working conditions, the drawing of state boundary lines, the curtailing of irrigation access, conscientious objectors, electric rate hikes, the 14th Amendment, denying women the vote, death sentences, lack of services for veterans, racism, sexism, homophobia, the timber industry, the environmental movement, public land, private land, low pay, and the Cascade Range Forest Reserve.
---
Welcome to the award-winning Oregon Encyclopedia
Western History Association, Gene Autry Public History Award, 2012.
AASLH American Association of State and Local History, Leadership in History Award, 2011.
NCTE logo National Council of Teachers of English, Multicultural Program Award, 2009.
---
OHS Digital History Projects
In addition to The Oregon Encyclopedia, OHS Digital History Projects include the Oregon History Project and the Oregon TimeWeb.
---
The OE is Green!
The Encyclopedia's editorial process is completely paperless— our authors and editors use a one-of-a-kind online workshop developed by Portland State University. We've published hundreds of authoritative entries on Oregon history and culture without hurting a single Douglas-fir. Donate your green to The OE and keep us—and the trees— growing.
---
Additional Funding
This project has been funded in part by the Oregon Heritage Commission and the Oregon Cultural Trust.
---
---
LSTA Libraries as Community Resources Meetings, made possible by a grant from the Institute of Museum and Library Services to The Oregon Encyclopedia.