An Authoritative and Free Resource on All Things Oregon
The Oregon History Project
The Oregon History Project is a digital resource of the Oregon Historical Society Museum and Research Library. Hundreds of historical records and artifacts from the unique and extensive OHS collections have been digitized, annotated, and organized according to the State of Oregon's Social Studies standards.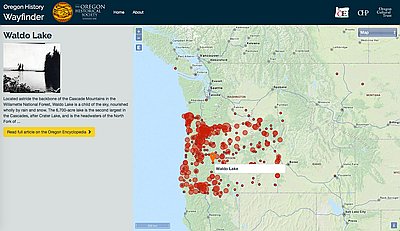 Oregon History Wayfinder
The Oregon History Wayfinder is an interactive map that identifies significant places, people, and events in Oregon history. Each point on the map connects to the historical records and scholarship on the Oregon History Project and The Oregon Encyclopedia. The Oregon History Wayfinder is supported in part by the Oregon Heritage Commission.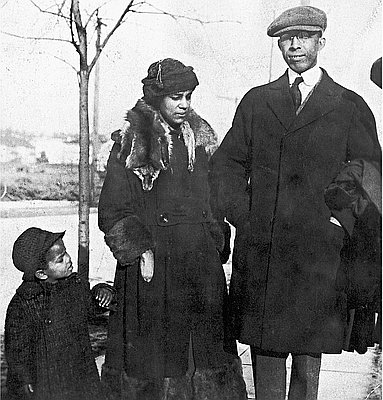 This Month in Oregon History: Black History Month
Robin Holmes filed suit against his former owner in the only slavery case adjudicated in Oregon court (1852); the Buffalo Soldiers garrisoned at Fort Vancouver (1899); activist Dr. DeNorval Unthank was born (1899); the Golden West Hotel opened (1906); Beatrice Morrow Cannady became assistant editor of the Advocate (1912); the logging town Maxville, Oregon, was built (1923); the Portland chapter of the Black Panthers was beaten and jailed (1969); William A. Hilliard became the first African American editor of the Oregonian (1982).
---
Welcome to the award-winning Oregon Encyclopedia
Western History Association, Gene Autry Public History Award, 2012.
AASLH American Association of State and Local History, Leadership in History Award, 2011.
NCTE logo National Council of Teachers of English, Multicultural Program Award, 2009.
---
OHS Digital History Projects
In addition to The Oregon Encyclopedia, OHS Digital History Projects include the Oregon History Project and the Oregon TimeWeb.
---
The OE is Green!
The Encyclopedia's editorial process is completely paperless— our authors and editors use a one-of-a-kind online workshop developed by Portland State University. We've published hundreds of authoritative entries on Oregon history and culture without hurting a single Douglas-fir. Donate your green to The OE and keep us—and the trees— growing.
---
Additional Funding
This project has been funded in part by the Oregon Heritage Commission and the Oregon Cultural Trust.
---
---
LSTA Libraries as Community Resources Meetings, made possible by a grant from the Institute of Museum and Library Services to The Oregon Encyclopedia.